We remain faithful to the same principles on which our company was founded 47 years: to provide superior service to our customers, put safety first, provide an exceptional job, promote innovation.
WHEN WAS BORN
The genesis of Joaquim Peixoto Azevedo business man of strong convictions and boosted his successors, took place in the late 60's, the level of development of the marble floor of enforcement activity.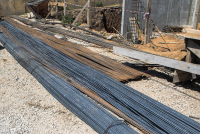 THE COMPANY HAS EVOLVED
Due to the new challenges it faces, concretized the transmission management to familydescent. The guidelines focused on sustainable growth remain, but with a new organization.
Here comes the creation of Joaquim Peixoto Azevedo & Filhos Lda., In 1989, a name that still holds.
REACHING OF LEADERSHIP
In 2005, it started the implementation of a Quality Management System according to standard NP EN ISO 9001.
The effort of the entire organization in the implementation of the Quality Management System resulted in the achievement of Quality Management Certification in September 2006.
PIONEERS IN TECHNOLOGY DEPLOYMENT
Today our company remains at the forefront of technology always learning new working methods and new ways to overcome obstacles.